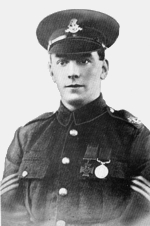 Sheffield City Council will be holding a ceremony to lay a VC paving stone at 12:30hrs on Friday 11 August 2017, in honour of Pte Arnold Loosemore VC, DWR, at the War Memorial in Barkers Pool, Sheffield, S1 2JA.
Standard Bearers are asked to meet at the War Memorial in Barkers Pool, at the front of City Hall by 12:00hrs, to be shown their positions at the War Memorial before moving down to the Town Hall to lead the civic procession into position at the start of the service.
There is no reserved car parking available in the immediate area but Sheffield is well served by public transport and city centre car parking is readily available with the park and ride as the best option.
The Lord Lieutenant, Lord Mayor, Family members and other invited VIP guests will be attending the final VC event in Sheffield to make this a high profile end to the paving stone ceremonies.
Guests are asked to wear suits or Regimental Blazers and ties, with medals.  Ladies in appropriate dress
Colonel George Kilburn MBE DL, will be representing the YORKS Regiment as the Deputy Regimental Colonel at the ceremony, to read the citation and lay a wreath on behalf of the Regiment.
The YRST are to provide six soldiers in service dress and medals, four to man the War Memorial and two to lead the civic procession from the Town Hall to Barkers Pool.