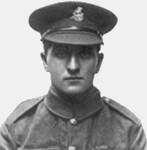 There is a national programme to lay paving stones in honour of WW1 VC recipients in the city, town or village of their birth.
A ceremony, organised by Richmond County Council, with support from the Yorkshire Regiment and the Regimental Association, to unveil a memorial paving stone for Private Arthur Poulter, one of our VC's, in East Witton, North Yorkshire, on Tuesday 10th of April, 2018.
It will start with a service in the Parish Church at 11.00 hrs, followed by the unveiling of the paving stone, laid next to the village War Memorial, at approximately 12.00 hrs, by the Lord Lieutenant for North Yorkshire.
Arthur Poulter's family donated his medals to The Regimental Museum, in August 1999, which were put on display.
Members of the Regimental Association are very welcome to join the ceremony.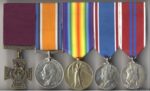 You can read Pte Poulters Citation here:- http://www.dwr.org.uk/history/victoria-cross-recipients/