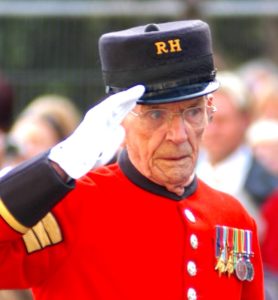 Dear Sirs and Gentlemen
It is with great sadness that we have to inform you all, that Fred, our only Chelsea Pensioner, died on Saturday morning, the 27th of July 2019 peacefully in his bed at the Royal Hospital Chelsea.
I had the pleasure to visit him in the infirmary at Chelsea on the Friday afternoon, the day before, where he looked very weak. We did have the opportunity to look through the Memorial Book published by Terry Butterworth, which I had taken for him, in which he took great pleasure.
Fred served for many years, as a volunteer with the St John Ambulance Brigade. Fred spent a lot of time in an ambulance with his nephew, who also served with the St John Ambulance Brigade, at many horse trials and events around London. On one such occasion Clare Balding sustained an injury and was treated by the pair at a Kempton Park event.
We are waiting for the details of Fred's funeral to be established and will then publish them as widely as possible. I hope as many as possible will be able to attend the funeral of this, very well respected member of our family.
Rest in Peace – Virtutis Fortuna Comes
John Hogg
Fred's Funeral took place on the 27th of August 2019 at 14:00hrs, at the Royal Hospital Chelsea.