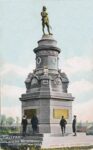 As many will be aware the Soldiers War Memorial, in West View Park was vandalised several years back. The Memorial, unveiled in 1904 and usually called the Boer War Memorial, was built to commemorate 73 soldiers from the Parish who lost their lives during the Boer Wars of 1880-1 and 1899-1902; plus two more from the 3rd Anglo – Afghanistan war,
One of the bronze plaques showing the names, of which 23 were 'Dukes', was stolen and another badly damaged in the attempt to remove it. The remaining two plaques were also vandalised with graffiti.

The Friends of Westview Park community group undertook a project to raise funds to have the memorial refurbished and the stolen and damaged plaques replaced. As a listed monument the work to do this had to be done by specialists and cost in excess of £100,000.

The work to do the restoration is now complete and a re-dedication ceremony will take place, on Thursday the 7th of November, at 14:30hrs.

The Association will be in attendance, to lay a wreath, hopefully with two of the Association Branch Standards on display.
What many are not aware of is that the 1st Battalion, the 2nd Battalion's Burma Mounted Infantry Company, the 3rd Milita Battalion as well as three composite companies (Volunteer Service Companies) from the 1st, 2nd and 3rd Volunteer Battalions (forerunners to the TA) served in the conflict.