The Association has been advised that this years All Services Parade, on 13th of September, has been cancelled.
The letter from Nick Hill, below, explains it all:-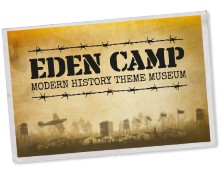 Dear Veterans Association Representative,
We hope that you and your members are in good health.
We are pleased to announce that after 107 day of being closed, we were able to re-open to visitors on the 6th July.
Whilst we attempt to try and return to a semblance of normality, life here at Eden Camp is somewhat different to what it was pre-lockdown in March. We have had to invest considerably in ensuring that both our staff and visitors are in a safe environment whilst on site. This has included reducing our visitor capacity by 50% and introducing an extensive number of measures including hand sanitizing stations, protective screens on all till and information points, increased cleaning regimes and extensive signage and information reminding visitors about the importance of washing their hands and adhering to social distancing guidelines.
It is no understatement to say that the last 3 and a half months have been the worst in the history of Eden Camp whilst we have been operating as a museum. Not only from a financial point of view (other than the job retention scheme and business rates 'holiday' we have received absolutely no assistance financial or otherwise from central or regional government or our local council) but also from an emotional one for our owners and staff. To see the tribute to all those that have served in HM Forces over the last 100 years, that we have worked so hard to create, empty of visitors has been most upsetting.
Those of you with connections with the Escape Lines Memorial Society, the Royal Signals Association and the Parachute Regiment Association (and other Airborne Forces) will know that we were not in a position to host your reunions and Services of Remembrance during the months of April, May and July this year.
We also missed out on paying our own special tribute on the 75th anniversary of VE Day in June.
With the prospect of being able to re-open we desperately clung on to the hope that all would be back to normal as far as our annual All Services Parade in September was concerned, so we kept the event on our Events list even after all other events had been cancelled.
However, even though we have now been allowed to re-open, we are still only allowed a certain number of visitors on site and we are still not allowed to organize an 'event' that brings together more than 30 people.
With only two months to go before the date of this year's All Services Parade, which was due to take place on the 13th September, we have now had to make the extremely difficult decision to formally cancel the event.
Those of you who have attended in the past will appreciate the number of attendees that the event attracts, and we also know that you will be appreciative of the amount of time and effort that goes in behind the scenes in preparation for the event.
Organising and hosting the All Services Parade has always been our way of giving back to the military veterans community by way of a thank you for helping us to create our unique tribute to all those that have served in HM Forces, but the actual event does cost in the region of 5,000 to organize and host. (additional costs on the day above our normal running costs include hire of the band, 1940's entertainment, PA System, additional seating, additional First Aid cover, additional staff to set up, clear away and man our car parks etc.)
Those of you who know us well will be aware that we are quite unique in the world of museums in that we are privately owned and therefore financed. We have never received any official help (financial or otherwise) from central, regional or local government or the council, the MoD, the Lottery, been eligible for grants or tax relief (Gift Aid) or rate relief. All revenue that we generate through the sale of admissions and secondary spend on site (Caf鬠Bar and Gift Shop) is re-invested back into the museum to keep us up and running.
During the course of a 'normal' year, when we are open for 11 and a half months, traditionally 6 months are profitable :Apr, May, June, July, Aug and Sept., two months we break even : March and Oct., and 4 months we actually run at a loss (Nov, Dec, Jan and Feb) but remain open and operational in order to keep our (30) full time staff in employment and ensure that our site and its exhibits are maintained and kept in a serviceable condition.
The situation we now face is that we have already missed out on three of our profitable months, so we just have July August and September (operating at 50% of our normal capacity) to try and generate enough revenue to see us through the leaner and what will most certainly be the long winter months this year.
With the best will in the world at present we just couldn't find the budget of £5000 to cover the cost of hosting this year's All Services Day.
We are grateful to those of you who, as individuals or as associations, have learnt of our plight, either through social media or local newspapers and radio and who have kindly offered support (both financially and/or morally) either through our Gofundme page : www.gofundme.com/f/eden-camp, or via letters and cheques in the post or e-mails of support.
With your help and support we will continue to battle on and try and ensure that we are in a better position next year when we can hopefully resume all our Special Events and continue to pay tribute to all those that our museum represents.
We do know that many of you will be disappointed not to have the opportunity to come together this year in a united show of comradeship and solidarity, so we are planning to hopefully broadcast a virtual Parade and Service via social media on the day, with video contributions from those 'familiar faces' that you see from year to year, including the Yorkshire Volunteers band, our Parade Marshall Derek Fairburn, Our Standards Marshall Tug Wilson and our Padre Canon John Manchester. With this in mind, if any of you would like to send a message of support or greetings then please contact us.
Unless some of you decide to visit as individuals before then (your support would be very much appreciated) we look forward to being in a position to welcome you all back next year.
Regards,
Nick Hill
Museum Manager and on behalf of all at Eden Camp.