Regimental Battle Honours
The award of Battle Honours did not become practice until 1800. The first campaign award, in 1802, that of the 'Sphinx', was to the 31 regiments which had taken part in the campaign in Egypt in the preceding year. From then on the award of Battle Honours became more and more frequent, but the wars, campaigns and battles fought before 1800 continued to remain unrecognised. It was not until 1881 that an attempt was made to remedy the situation. Thus 'Dettingen', fought in 1743, only became a Battle Honour of the 33rd until 1882.
The Duke of Wellington's Regiment has been awarded 118 Battle Honours in all, of which those in bold below are emblazoned on the Colours. Of these the groups of ten each for World War 1 and World War 2 are emblazoned on the Queens Colour. The remaining 21 are emblazoned on the Regimental Colour.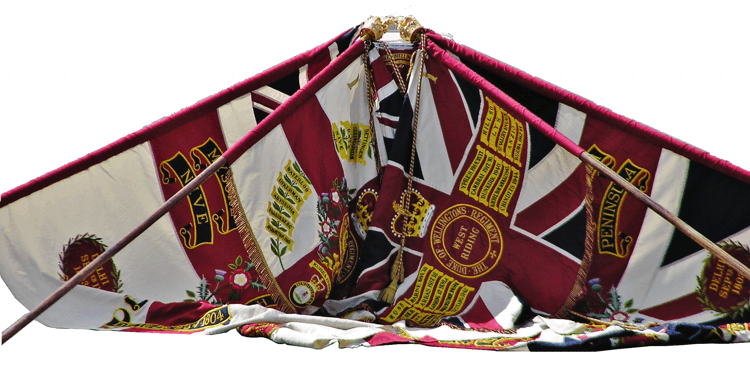 Dettingen, Mysore, Seringapatam, Ally Ghur, Delhi 1803, Leswaree, Deig, Corunna, Nive, Peninsular, Waterloo, Alma, Inkerman, Sevastopol, Abyssinia, Relief of Kimberley, Paardeberg, South Africa 1900–02
World War I:
Mons, Le Cateau, Retreat from Mons, Marne 1914, 18, Aisne 1914, La Bassée 1914, Ypres 1914, 15, 17, Nonne Bosschen, Hill 60, Gravenstafel, St. Julien, Aubers, Somme 1916, 18, 18, Albert 1916, 18, Bazentin, Delville Wood, Pozières, Flers-Courcelette, Morval, Thiepval, Le Transloy, Ancre Heights, Arras 1917, 18, Scarpe 1917, 18, Arleux, Bullecourt, Messines 1917, 18, Langemarck 1917, Menin Road, Polygon Wood, Broodseinde, Poelcappelle, Passchendaele, Cambrai 1917, 18, St Quentin, Ancre 1918, Lys, Estaires, Hazebrouck, Bailleul, Kemmel, Bethune, Scherpenberg, Tardenois, Amiens, Bapaume 1918, Drocourt-Quéant, Hindenburg Line, Havrincourt, Épehy, Canal du Nord, Selle, Valenciennes, Sambre, France and Flanders 1914–18, Piave, Vittorio Veneto, Italy 1917–18, Suvla, Landing at Suvla, Scimitar Hill, Gallipoli 1915, Egypt 1916
World War II:
Dunkirk 1940, St. Valery-en-Caux, Tilly sur Seulles, Odon, Fontenay Le Pesnil, North-West Europe 1940, 1944–45, Banana Ridge, Medjez Plain, Gueriat el Atach Ridge, Tunis, Djebel Bou Aoukaz 1943, North Africa 1943, Anzio, Campoleone, Rome, Monte Ceco, Italy 1943–45, Sittang 1942, Paungde, Kohima, Chindits 1944, Burma  1942–44
Battles fought by the 33rd and 76th Regiments which are not commemorated on the Colours
The rules laid down that only victories would qualify and then only "provided their results have left their mark on history which renders them familiar". Under that rule the Battle Honour of 'Bed Boo Ali' (1823), and other similarly little known actions, hardly seem to qualify. It was also laid down that the HQ and at least half the regiment must have been present – a rule not always strictly followed. The inconsistencies resulting from trying to apply rules to something not easily subjected to a system are shared by all regiments. However, a battle not emblazoned on the Colours may easily slide into obscurity, which does less than justice to those who fought in it.
The War of the Spanish Succession (1702-1713)
There were two theatres in the Spaniish War of Succession, North West Europe (Flanders and Germany) and the Spanish Peninsula (Spain and Portugal). British troops who fought in NW Europe became eligible for the Battle Honours Blenheim, Ramillies, Oudenarde and Malplaquet – though not until 1882. On the other hand the British troops who fought in the Peninsula, including the 33rd, received nothing. That was because they had to surrender at Brihuega (1710), where the British rearguard of 4,500 men fought with heroic tenacity but were finally overwhelmed by a French army of 20,000 men. The British Commander, General Stanhope, reported; "…we had not 500 men who had any ammunition… should I ever again be entrusted with troops I never desire to serve with better men."
The War of the Austrian Succession (1742 – 1748)
Although the 33rd gained the Battle Honour Dettingen during this war, the 33rd were also at the battle of Fontenoy where the British Infantry excelled itself. Victory was denied them because of the failure of the attacks elsewhere in the line. Casualties of the 33rd totaled 189 among whom was the CO who was killed.
The American War of Independence (1775 – 1783)
As the American War of Independence ended in defeat for the British no honours have been awarded for any of its battles, including the individual battle victories at Brooklyn (1776), Brandywine (1777), German Town (1777), Monmouth Court House (1777) and Camden (1780), as well as the final defeat at Yorktown (1781), which virtually put an end to British operations until the peace treaty of 1783.