Lt Col (Rtd) Hugh Le Messurier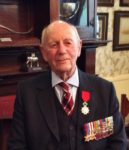 The Association has been advised that Lt Col (Rtd) Hugh Le Messurier has passed away. The funeral was held in Masham church, at 12:00hrs on the 4th of September.
Condolences should be sent to Hugh's daughter Jacquie Gaskill at The Rose House, Wykeham, Old Malton, YO17 6RF – for further information please contact Brig Jeremy Gaskill on 01653 697320.
Hugh Le Messurier joined The 'Dukes' on the last day of December in 1939. During the second world war he served with the 1/7th in Iceland, and through Europe. other service with the Regiment was in Egypt, Sudan, Kenya, Korea, Gibraltar, Northern Ireland and a stint in Bermuda, and was Mentioned in Despatches twice, in NW Europe and Kenya. Hugh ran the Catterick Training Centre from 1970 until finally retiring in 1985.  In 2016 Hugh was presented with the French Légion d'honneur, with the rank of Chevalier, (Knight), at a ceremony in the Huddersfield Drill Hall.
See:- Huddersfield Examiner News Article of Lt Col Messurier being presented with his Légion d'honneur –  https://www.examiner.co.uk/news/west-yorkshire-news/huddersfield-hero-95-presented-top-11159739