Lt Colonel Peter Mitchell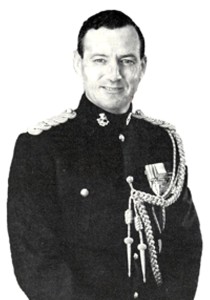 In early 1970 the Battalion was still in Hong Kong and was visited by Colonel Peter Hamer, Colonel, G.S. inf, Director of Military Operations at MOD.  As 2IC I was present at his meeting with the CO (Lt Col Charles Huxtable) at the end of which we asked about the situation in Ulster and to our surprise were told that the planners were working on a  major military commitment in the Province, lasting at least 20 years.  Nevertheless, I don't think we appreciated just how large a part the Province was to play in the Battalion's life over the next two decades
In March 1973, having recently taken over as CO, the Bn moved from Catterick to Ballykelly, replacing 2RGJ.  Ballykelly had until recently been a RAF Coastal Command base and thus covered an enormous area.
The base housed a number of minor units in addition to the Bn.  A great bonus on an 18 month accompanied tour was the large number of station married quarters, so that all the families could be housed locally, which was of great importance, since the workload promised to be intense and the rifle companies were likely to spend a good deal of time away from the Barracks.
We found ourselves responsible for most of Co Londonderry with a company based in the RUC station in Magherafelt, which spent it's time combatting the IRA South Derry "Brigade",  operating mainly around Bellaghy, Maghera, Kilrea and Toomebridge.  There was a further platoon based in the RUC station in Dungiven, a strongly republican area.  We also kept an eye on North Antrim, which was relatively quiet, although Larne had the potential for trouble from Loyalist factions and the Recce platoon monitored it and the Glens of Antrim which were thought to be an occasional terrorist training area.
We had a company detached under the command of one of the Londonderry City units and based in Bridge Camp, who were responsible for the troublesome Brandywell area.  One company was resting and responsible for the security of our camp, Shackleton Barracks.  The fourth company was either on leave, guarding HMP Magilligan or available as a reserve for the frequent unexpected event.  All these tasks were carried out in support of the RUC Divisions 'O' and 'P' in conjunction with 1 and 5 UDR based in Ballymena and Coleraine respectively.
We operated a 4 week turnround for the companies in the various tasks, and although it could be argued that there was some loss of continuity, in my view this was overtaken by the morale advantages arising from a fair division of the most dangerous location (The City) between the companies and in any event everyone quickly got to know the various areas.
We all quickly learned that Intelligence was the key to success.  We established  very close links with the RUC Special Branch, covering our areas, who appeared to have some excellent sources.  There was an Int Corps NCO based with the company for a time.  The Bn Intelligence Officer and his team built up a very large database, covering both the City and County areas.  Despite all of this, together with intelligence, which from time to time came to us from "above", we were caught out on occasions.  Nevetheless there were a large number of successful operations leading to the discovery of roadside bombs, arms caches and many arrests of wanted men.  Inevitably and sadly, we had casualties, with two killed and some fifteen injured arising from the 363 attacks (shootings and explosive) upon us.
It was a very busy time, made more so since the Government was trying to make political progress and the tour was studded with elections for Parliament, Stormont and local councils, in each of which voting locations had to be guarded and a heightened alert maintained.  These all passed off without major incident as did the Ulster Workers strike for which substantial preparations were made, although in the event it passed over quickly.
The battalion moved after !8 months to join 16 Airportable Brigade in Aldershot and faced a new set of challenges.