Pete Lord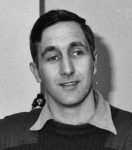 It is with great sadness that we have been informed of the death of William John Lord – known to us as Pete Lord.
Pete served in the 'Dukes' from 1957 until leaving the Army, as a Cpl, in 1980. Pete served with the 1st Bn in most postings including BAOR and Ballykelly, where he was awarded the BEM – and was well known and liked within the Regimental family.
Pete had moved to Newton Aycliffe, Co Durham with his wife in order to be closer to her sister. Pete had been battling Leukemia for some time.. When Pete was serving he was known for his stammer and damage to his eye he received in NI.
Pete's funeral was held on 7th March 2019 at St. Clares Church, Newton Aycliffe, Co. Durham